Powder Coating

Luton, Hertford, Bedford & Bedfordshire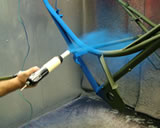 Here at G&L Coating we have 25 years experience in powder coating so you can be sure that you will be getting the best quality service at a very competitive price.
For more information please call us on (01462) 436668 or fill out our online contact form and we can answer any questions you may have.
What is Powder Coating?
Powder coating is a superior metal finishing process that allows rusty and used looking metal to look restored new again.
The powder coating process involves three basic steps:
Part preparation or the Pre treatment
The powder application
Curing
1. There are a number of ways the prepare the object ready to be powder coated. The surface needs to be clean and free of all oils, lubrication greases, metal oxides, welding scales etc. One of the most common ways to ensure the surface is thoroughly clean is to use brasive blasting or Sandblasting and shot blasting.
Electrostatic Coating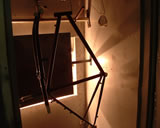 2. The most common way of applying the powder coating to metal objects is to spray the powder using electrostatic coating with an electrostatic gun. With electrostatic coating, the gun places a positive charge on the powder, which is then sprayed towards the object, which is grounded. The object needs to then be heated, the powder melts into a uniform film, and is then needs to be cooled to form the hard coating.
3. Once the powder has been set it needs to be placed in a large oven at a certain temperature and for a certain time to allow the powder to melt and 'cure'. This is usually at around 200°C for roughly 10 minutes.
Start Your Enquiry
For a quick quotation please start by filling out this form:
New Shot Blasting Facilities
Shotblasting is a way of cleaning or preparing surfaces for recoating, using an abrasive material forced through a jet nozzle.
Shotblasting can be used to clean hardwood, metal, brickwork, concrete or stone.
Find out more about out our shot blasters.