Blast Cleaners

Luton, Hertford, Bedford & Bedfordshire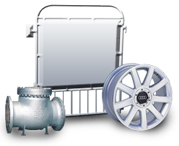 At G&L Coatings we also have blast cleaners who can restore your steelwork to its original condition. To get the best finish possible it's essential that the right process and type is used. We at G&L Coating Ltd have the knowledge and experience to give your the best results for the best price. We have several different methods of high pressure cleaning, which is applied in different situations.
Bring your items to us at our workshop in Hitchin and we will provide a thorough cleaning service which will eliminate mould, corrosion and any other types of growth that need to be removed. our blast cleaners and sand blasters work mainly with steel-based items such as gates, automotive parts, mobile parts of building exteriors and vehicle wheels.
Sandblasting

Sandblasting or shot blasting is a term for the process of smoothing, shaping and cleaning hard surfaces by blasting sand across a surface at high speeds. This effect is similar to that of using sandpaper, but gives a better more even finish with no problems at corners. The lowest priced standard grit is suitable for blasting clean any corroded steel, marine growth and build-up of cement. As experienced sand blasters, we are able to assure you of a top qualit service.
Shot Blasting Information
We have worked on many steel sandblasting and shot blasting projects for domestic and commercial clients from all over Hertfordshire, and so we have a wealth of experience with dealing with different types of steel items. If you're unsure about whether your item can be sandblasted clean, just give us a call and explain where you will need it applied. You may also contact us by filling in the form below.
Start Your Enquiry
For a quick quotation please start by filling out this form:
New Shot Blasting Facilities
Shot blasting is a way of cleaning or preparing surfaces for recoating, using an abrasive material forced through a jet nozzle.
Shotblasting can be used to clean hardwood, metal, brickwork, concrete or stone.