Nylon Coating

Luton, Hertford, Bedford & Bedfordshire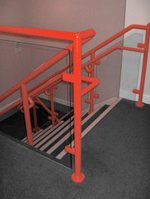 Additionally to epoxy based powder coatings, we also provide nylon coatings and finishes which are becoming an increasingly popular choice for businesses. A pure nylon coating is based on polyamide resin systems, which have the following desirable properties:
Resistance to a range of chemicals including oils and solvents
Excellent impact absorption
High resistance to abrasion
Low coefficient of friction
Long lasting coating
Excellent slip characteristics (self lubricating)
What is Nylon Coating?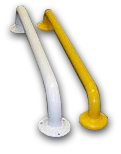 Nylon is a high quality, resilient product which is also unharmful to the environment. It is produced using the oils from Castor plants and it offers a very protective finish.
A nylon coating produces a hard and shiny finish on whatever it is applied to, which then becomes very resistant to damage. Nylon coatings are applied using an electrostatic spray tool, meaning the coating attaches to the item instantly. An advantage of nylon coating is the diverse number of shades and colours available that comply with RAL and BS standards. This makes the spray applicable in a variety of situations where the part that is being sprayed needs to stand out for safety purposes.
Sheet Metal Coating &
Applications
Nylon coating is applicable in many circumstances. We provide sheet metal coating services for large peices of metal that require protection with a nylon coating. Sheet metal coating can include a variety of applications. Examples of how nylon coatings have been used include: handrails, safety bars, wiring, light switches, automotive parts, furniture parts, turned parts and many more. Give us a call for more information and for advice on the best coating for your business.
Start Your Enquiry
For a quick quotation please start by filling out this form:
New Shot Blasting Facilities
Shotblasting is a way of cleaning or preparing surfaces for recoating, using an abrasive material forced through a jet nozzle.
Shotblasting can be used to clean hardwood, metal, brickwork, concrete or stone.
Find out more about out our shot blasters.